Kitchen Renovation Contractor
Kitchen Renovation Contractor
Kitchen renovation contractor
Kitchen renovation is a great way to increase the value of your property. It also adds a great experience when you cook meals or have dinner with family. We have a great team that can help you bring your dream designs to life.
The kitchen is a special and unique space for many people, so we take great care working closely with our clients to pick the best layouts. The options for kitchen renovations are limitless and they get really exciting every time. Kitchen renovations are really complex and requires a team of experts to accomplish this task.
In general, renovating a kitchen involves plumbing, electrical re-wiring, windows, doors, flooring, lighting, installing new cabinets, paint work and appliances (oven, fridge, microwave, stove, and sinks). The cost of kitchen renovations really depends on the size of the project. Homeowners who are looking to keep their sinks and countertops, usually save money on the task. However, it is recommended to be realistic with your expectations and budget. Kitchens usually attract new buyers when you decide to sell and it is so important in adding value to your property. 
There are three types of kitchen renovations:
Cosmetic: This is a simple renovation that replaces items that are easily removed. This might include countertops, hardware, cabinet doors, new hardware and a new paint job in the kitchen that suits the new installed items. This type of reno is typically advised if you plan to sell your house and need a quick fix to increase the value of your property before listing it on the market. This is also ideal if you want to change the look of your kitchen without having to spend too much money on a whole new kitchen.
Remove and Re-install: The remove and re-install reno includes removing items from your kitchen and then replacing them in the same exact spot afterwards. The layout of the kitchen remains the same and cabinets hardware, light fixtures, and flooring might be removed for fixing.
Custom: This is the type of renovation that you usually do to improve the function of your kitchen. It can be used to create extra space and change your kitchen's layout. This might include moving the sink, fridge, and stove. It might also mean removing some areas in the kitchen such as islands and tables to expand the area and create a new concept.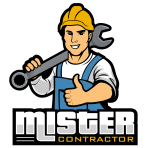 Fill out this form to book your free kitchen renovation estimate
Quick Service On Emergency Call - 24/7
Get Free Consultation
We've Been Building For Over 20 years
Mister contractor serves residents all over Canada! You can trust us to get the job done.