Basement Renovation Contractor
Basement Renovation Contractor
We are here to help you create your dream basement for you and your family. At Mister Contractor, we have a team of experts that can help you turn any unfinished basement into another cozy home that can be used as a rental property or an extra space for your guests.
Every basement renovation project is different. It takes around 4 weeks to finish a 700 square feet basement. Bigger basements and more complex projects usually take longer while small and less complicated projects can be done faster.
We will connect you with one of our team members who can walk you through numbers and give you an execution plan. Basement renovations are so popular because it increases the value of your property when you decide to sell your home. We will give you a reasonable estimate within you budget and a timeframe. Rest assure that you are in good hands to turn your expectations into reality.
You need to obtain all permits before the project so we ensure you end up with a legal basement. All tools and materials will be delivered to your property on the first day of the project and will be stored in a safe place. 
Wall boards will be installed once the plumbers run water lines and drains if you are looking for a full renovation. Flooring and tiling can be later added to the project.
There are unlimited color choices you can choose from for your basement. Primer will be added before applying paint. After the paint is dry, we can add lightings and fixtures to bring a personalized touch to your dream basement. We can also help you choose the best colors that suit your needs.
We will install the kitchen in your basement after finishing the plumbing and electrical fixtures.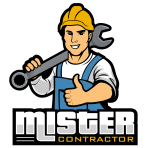 Fill out this form to book your free basement renovation estimate
Quick Service On Emergency Call - 24/7
Get Free Consultation
We've Been Building For Over 20 years
Mister contractor serves residents all over Canada! You can trust us to get the job done.