Bathroom Renovation Contractor
Bathroom Renovation Contractor
Bathroom renovation:
Build the house of your dreams with our quality bathroom renovation team. We know at Mister Contractor that the most used room in your home is the bathroom, and it is important to ensue that it is exactly what you wanted.
Bathroom renovation is one of the best investments you can do in your house. Having a quality bathroom in your house will only add value to your property when you sell and any potential buyers in the future will agree to that. Our designers will work closely with you to achieve the best designs that suit your needs and budget.
Before bathroom renovation, we will send an expert bathroom renovation contractor to your property for a free-of-charge estimate. He will also check for any leaks and mold and recommend the best actions.  
Call us today and tell us when do you need bathroom renovation. We can do all the below things and more:
Sinks and mirrors
Wooden cabinets
Special lightings
Showers and tubs
Jacuzzi
Under floor heating
Windows and doors
Accessories and hardware
Shower Enclosures installing
Marble sinks and finishes
Vent installation
We have a team of experts who can help you in bathroom renovations. We are also expert condo bathroom renovation contractors. The team at Mister Contractor will provide all the skills you need to create the layouts you are dreaming about. We serve all the GTA area and offer a free consultation service.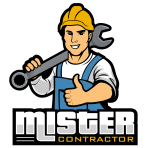 Fill out this form to book your free basement renovation estimate
Quick Service On Emergency Call - 24/7
Get Free Consultation
We've Been Building For Over 20 years
Mister contractor serves residents all over Canada! You can trust us to get the job done.